Bhutan College of Science and Technology Vacancy and Career opportunities 2021 (www.cst.edu.bt) Vacancy 2021). Recently the College of Science and Technology (CST) has published vacancy announcement of the immediate requirement for the various position.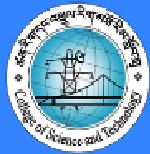 www.cst.edu.bt Vacancy 2021
The College of Science and Technology (CST) is the first institute in the country to offer undergraduate degree programmes in engineering under the Royal University of Bhutan.  The college aspires to be a centre of excellence in the field of science and technology-enriched with GNH values by offering quality programmes that are relevant to the need of the job market both within and outside the country. College of Science and Technology (CST), is responsible to oversee the tertiary education system in the Kingdom of Bhutan in the field of science and technology, The College has a team of well qualified and committed faculty and relatively good laboratory resources. The Library is being stocked with more books, journals and other learning materials. Internet connectivity is through a leased line of connectivity available to all the staffs and student 24/7.
Vacancy and Career opportunities in June 2021
The College of Science and Technology is pleased to announce the following vacancies in
Organization: CST
Position Title: Assistant Lecturer/Associate Lecturer/Lecturer
Vacancy Publish date: 30 June 2021
Last date to apply: 14th July 2021
Total Number of vacant post: 4
Area: Architecture, Electronics & Communication
Position Level: PL 6/5/4
Qualification: B.Arch/ M.Arch/ M.Plan/ MUD/ PhD (Architecture, Urban Design, Urban Planning and Housing), Minimum education required is Bachelors in Electronics and Communication Engineering.
Eligibility: Candidates must have a minimum aggregate of 55% in Degree, 60% in Cl. XII (English + best 3 subjects) & 60% in CL X (English + best 4 subjects)
Salary: Pay scale: 28315-570-36865, HRA: 5,665/-, Teaching allowance: 15,575/-, No Contract allowance will be paid
Contract Duration: One year & extendable on conditions
How to Apply
Eligible and interested candidates may apply to the Administrative Section, College of Science and Technology, Rinchending, Phuentsholing, Chhukha on or before 14th July 2021 along with copies of the required documents at kinzangnamgay.cst@rub.edu.bt/tsheringwangmo.cst@rub.edu.bt.
Criteria:
Should be a Bhutanese National
Must have attained 18 years of age, and not more than 50 years of age.
Documents required
Employment Application Form (RUB)
CV
Copy of citizenship ID Card
All Academic Transcripts and mark sheets (Cl.X, XII, Degree/Master/PhD)
Security Clearance Certificate
Medical Fitness Certificate
Work Experience Certificate if any
Audit Clearance Certificate (If presently employed)
No Objection Certificate (from your employer if presently working)
Full Present Address and Tele/Mobile No. and email address if possible.
Shortlisted candidates will be announced on the College website and intimated for interview through call.
Note: All the documents must be compiled in one PDF file, and other versions of documents submission will be rejected. We will be considering only one compiled PDF file document per applicant and the college will be not responsible for the missing of your additional attachments.
For any clarification, please call 17160538 during office hour.