Bhutan Royal Thimphu College Vacancy and Career opportunities 2021 (www.rtc.bt Vacancy 2021). Recently the Royal Thimphu College (RTC) has published vacancy announcement of the immediate requirement for the various position.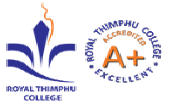 www.rtc.bt Vacancy 2021
Royal Thimphu College (RTC), Bhutan's first private college, offers general degree programs under the auspices of the Royal University of Bhutan and the Khesar Gyalpo University of Medical Sciences of Bhutan. Our objective is to contribute to educational excellence in Bhutan and to become an institute of international repute attracting outstanding students from Bhutan and abroad. The College aims to provide the best possible education to its students while keeping fees affordable and competitive with those in the region.
The RTC campus, covering an area of 25 acres in Ngabiphu, offers a secluded and peaceful natural environment for study. At the same time, it is only 15 – 20 minutes drive from the capital city, Thimphu, which offers sports, leisure and cultural attractions as well as the potential for student internships and field trips.
RTC faculty staff hail from seven different countries. They come from Bhutan, India, USA, Canada, Netherlands, Australia and Bangladesh. Together they provide diverse and innovative teaching methods and offer students an international perspective on their studies. All of our lecturers are well qualified and dedicated to providing the best possible education for RTC students.
Vacancy and Career opportunities in March 2021
The Royal Thimphu College is pleased to announce the following vacancies in
Organization: RTC
Position Title: Asst. Academic Officer
Vacancy Publish date: 30 March 2021
Last date to apply: 12th April, 2021
Total Number of vacant post: N/A
Place of Posting: Bhutan
Position Level: N/A
Eligibility: Graduate with 1st Division.
Start Salary/Level: Nu.23,500 + 11% PF
How to Apply
Applications with complete CV and academic transcripts should be submitted to the HR Office by Monday, 12th April, 2021 (4:00 PM) either online (visit Careers at RTC link at www.rtc.bt) or email to hiring@rtc.bt. Applicants are strongly encouraged to apply online. Please visit www.rtc.bt or call 351801 (Ext. 161 or Ext.118) for more information. Only short-listed candidates will be contacted for interviews.
Documents to be submitted along with the application:
Curriculum Vitae/ Resume
Mark sheets of class X, XII, Diploma, Degree or Master's as applicable
Copy of Identification document (CID or others)
Experience letter from previous employer if applicable
Medical Certificate
Security Clearance
As part of RTC's plan to recruit the best possible staff, the College welcomes applicants, especially from highly motivated and qualified individuals. In this regard, any prospective applicant who feels that she/he has something to contribute to the growth and institutional strengthening of the college is welcome to send an application, even for unlisted positions. The application should clearly state the possible positions for which you are interested / qualified in, and should include a detailed CV. For more queries, you can contact us at hiring@rtc.bt. Thank you for your interest in employment opportunities at the Royal Thimphu College. If the College is recruiting for specific positions, these are noted below.