Bhutan Royal Thimphu College Vacancy and Career opportunities 2021 (www.rtc.bt Vacancy 2021). Recently the Royal Thimphu College (RTC) has published vacancy announcement of the immediate requirement for the various position.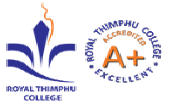 www.rtc.bt Vacancy 2021
Royal Thimphu College (RTC), Bhutan's first private college, offers general degree programs under the auspices of the Royal University of Bhutan and the Khesar Gyalpo University of Medical Sciences of Bhutan. Our objective is to contribute to educational excellence in Bhutan and to become an institute of international repute attracting outstanding students from Bhutan and abroad. The College aims to provide the best possible education to its students while keeping fees affordable and competitive with those in the region.
The RTC campus, covering an area of 25 acres in Ngabiphu, offers a secluded and peaceful natural environment for study. At the same time, it is only 15 – 20 minutes drive from the capital city, Thimphu, which offers sports, leisure and cultural attractions as well as the potential for student internships and field trips.
RTC faculty staff hail from seven different countries. They come from Bhutan, India, USA, Canada, Netherlands, Australia and Bangladesh. Together they provide diverse and innovative teaching methods and offer students an international perspective on their studies. All of our lecturers are well qualified and dedicated to providing the best possible education for RTC students.
1. Vacancy and Career opportunities in July 2021
The Royal Thimphu College is pleased to announce the following vacancies in
Organization: RTC
Position Title: Teaching Assistants
Subject Area: Business Foundation, BA English Studies, BA Anthropology, BA Development Economics, BA Sociology-Pol Sci, BSc Environmental Management, IT Skills
Vacancy Publish date: 20 July 2021
Last date to apply: 26 July 2021
Total Number of vacant post: 14
Place of Posting: Thimphu
Eligibility: B.Com/ BBA, BA in English Studies/ Literature/ Language, BA Anthropology, BA Development Economics, BA in Sociology- Pol Sci/ Social Science, Bachelor in Env. Mgt/ Science, Bachelor in Computer Science/ IT
How to Apply
Applications with complete CV and relevant transcripts/certificates should be submitted to the HR Office by Monday, 26th July 2021 (4 PM) either online email to hiring@rtc.bt. Applicants are strongly encouraged to apply online. Please call 351801 (Ext. 147 or Ext.118) for more information.
The application should include the following:
A Curriculum Vita / Resume that contains contact details (such as address, e-mail, fax, phone/mobile numbers), education qualification, employment history, research and publication, and other relevant information,
Copies of Class X, XII, undergraduate and postgraduate degree certificates and mark sheets,
Copy of Identity card/citizenship card/ passport,
Two reference letters including at least one from your former employer or academic mentor. In case these are not available, the names and contact details of at least two referees who can be contacted should be provided.
Only shortlisted candidates will be contacted for interviews.